Gabion basket
Gabion baskets are galvanized steel, twisted, woven wire mesh filled with stone for a variety of applications including, but not limited to, retaining walls, slope paving, drop structures, weirs, drop structures, and streambank protection. Our gabion baskets are manufactured in accordance with and conform to the guidelines of ASTMA 975-97.
Gabion baskets offer several advantages over loose thrown stones because of their modularity and ability to be stacked into various shapes; they are also resistant to being washed away by moving water. gabion baskets also have advantages over rigid structures because they can accommodate settlement, dissipate energy from flowing water, and drain freely. In some cases, their strength and effectiveness may increase over time as silt and vegetation fill the interstitial voids and reinforce the structure. The stone fill material used to fill gabion baskets is clean hard rock with a maximum size of 4 to 8 inches.
Specification
Gabion Basket Sizes(mm)

Gabion dimensions and volumes

Wire Diameter

L(M)

W(M)

D(M)

Capacity(m³)

Number of diaphragms

60*80 /80*100 /100*120

4

2

0.3

2.4

3

Mesh Wire: 2.0mm, 2.2mm 2.5mm, 2.7mm, 3.05mm.2.0/3.0mm, 2.2/3.2mm2.5/3.5mm, 2.7/3.7mm.
selvedge wire:2.5mm, 2.7mm3.2mm, 3.4mm, 3.8mm2.5/3.5mm, 2.7/3.7mm3.2/4.2mm, 3.4/4.4mm
lacing wire: 2.0mm, 2.2mm 2.0/3.0mm, 2.2/3.2mm

6

2

0.3

3.6

5

4

2

0.23

1.84

3

6

2

0.23

2.76

5

2

1

0.5

1

1

3

1

0.5

1.5

2

4

1

0.5

2

3

2

1

1

2

1

3

1

1

3

2

4

1

1

4

3
Other specifications can also be customized processing.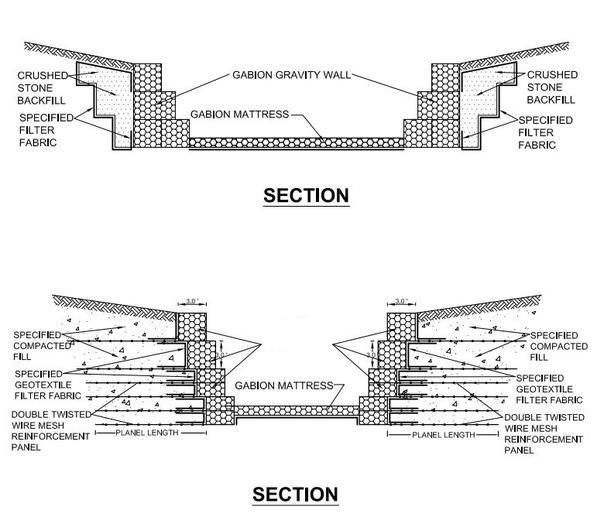 Gabion Wall Instructions
Gabion Baskets Price (if you know what size you need)
If you know the size of gabion baskets required to make your retaining wall, or if your retaining wall has multiple heights, please contact us and let us know how many you need.
How long do gabion walls last?
Gabion walls will last as long as the mesh wiring that holds them together. While you can reasonably expect any of these structures to last a long time, some of these lines can last up to 60 years!
Even better, you rarely need to worry about the filler material falling apart. So, if you're considering replacing your existing gabion walls, you can keep costs down by reusing fill material.
What is the gabion wall used for?
Gabion baskets are wire mesh containers filled with stones, used for various purposes such as erosion control, retaining walls, landscaping, hesco defense basket wall, chicken wire gabion wall, and even architectural design. The stones inside the baskets provide weight and stability, while the wire mesh prevents the stones from shifting or falling out.
Decorative gabion baskets are typically used in landscaping projects to create a visually appealing barrier or feature. Chicken wire gabion walls are often used for temporary or low-cost solutions, such as in construction sites. Garden gabion baskets are used for creating raised garden beds or to provide a decorative element to a garden. Hexagonal gabion baskets are a popular shape for gabion walls and are known for their strength and durability.
Are the gabion walls sturdy?
With the ability to withstand a lot of pressure, their rustic appearance makes gabions a practical and eye-catching feature if you wish to use them in your landscaping projects. Additionally, these walls tend to become more structurally stable over time due to the buildup of vegetation and silt. They have a sturdy base that protects them from damage in heavy rain and are an excellent, hardy retention option.
What materials are the gabion walls made of?
Manufacturers create gabion walls from a variety of materials depending on the application of the wall. Whether you're looking for a landscaping aid or a permanent fixture for your garden, there are different materials you can use to suit your needs.
What are gabion walls made of?
Usually manufacturers make gabion wire mesh panels from galvanized steel. Another popular option is PVC-coated wire. Finally, while it's uncommon, you can find gabion wall mesh made from rust-colored steel or galvanized heavy hexagonal mesh to give it a more rustic look.
What materials can you fill gabion walls with?
While manufacturers almost always use galvanized steel or PVC-coated wire to make the basket's mesh, there is more variety in the materials you fill them with.
Most people build walls out of rock, stone, or concrete—sometimes a mix of the three. The important thing to consider when working with rocks or stones is that they need to be larger than the wire opening; otherwise, they'll just fall out!
Finally, if you are using gabion walls for landscaping or other industrial purposes, you may want to consider using sand or soil as wall filler. However, people generally do not use sand or soil as filler for yard or garden walls.
What should you do with gabion walls?
The options for gabion walls are truly endless. You can use them as retaining walls, decorative walls, seating walls, accent walls and more! Your imagination only limits the possibilities of gabion walls.
Are the gabion walls load-bearing?
Do not! While gabion walls have a wide range of applications, there is no rigorous study to determine whether you can use gabion walls in load-bearing capacity. But just because research doesn't show it doesn't work doesn't mean you should try it! If you need a load bearing wall, don't take the plunge and stick with a more traditional wall.
Can you use gabion walls as seating?
Absolutely! Wall comfort depends on what you fill, but gabion walls are an excellent choice for seating walls. They are very durable and heavy, which means they are nearly impossible to damage by sitting or standing on them.
However, gabion walls last as long as the grid that holds them together, not the underlying material. So, while gabion walls are an excellent choice for seating walls, using them in this way will shorten the overall lifespan of the wall—not enough to detract from it.
Do you need drainage behind a gabion wall?
Yes! While gabion walls have many advantages and benefits, they are similar to other retaining walls in that they require drainage. Without proper drainage, you can get standing water, cracks, and spoilage.
Therefore, planning the drainage path behind the gabion wall is as important as the construction of the wall itself. Make sure your walls will last by ensuring adequate drainage from day one.
How high can you building a gabion retaining wall
If you want to know how to build a gabion retaining wall in your yard or garden, it will probably be much taller than you need. That's because if you building a gabion wall correctly, it can be as high as 30 feet. It's as high as two floors!
Most gabion walls are not that high, and you need to make sure your wall is wide enough to support the height of the wall without compromising its stability.
Gabion walls come in almost any size and are easy to customize. Plus, this makes them perfect for giving your home or garden an original custom look without breaking your budget.