Description of Gabion Box
What is a gabion box?
Our gabion boxes are triple life galfan coated and last 2-3 times longer than galv. gabion boxes are filled with rock and stacked on top of each other to form a gravity wall. We can sell any number of gabion boxes, no order is too small, get gabion boxes price.
What are the uses of gabions?
Research purpose: The main purpose of gabion walls is to control roadside landslides, flooding and erosion and scouring of stream banks by high-velocity rivers and to prevent further damage to waterlogged areas.
Gabion Box Sizes
Mesh Sizes

Gabion box dimensions and volumes

Wire Diameter

L(M)

W(M)

D(M)

Capacity(m³)

Number of diaphragms

80*100 /100*120

2

1

0.5

1

1

Mesh Wire: 2.5mm, 2.7mm, 3.05mm.2.5/3.5mm, 2.7/3.7mm
selvedge wire: 3.2mm, 3.4mm, 3.8mm3.2/4.2mm, 3.4/4.4mm
lacing wire: 2.0mm, 2.2mm 2.0/3.0mm, 2.2/3.2mm

3

1

0.5

1.5

2

4

1

0.5

2

3

2

1

1

2

1

3

1

1

3

2

4

1

1

4

3
Other specifications can also be customized processing.
Gabion Box wire surface treatment can be Zinc, Galfan or PVC coating as per ASTM A 641 & ASTM A 975.
Mesh type 80x100. The nominal mesh opening D = 3.25 in. (83 mm)
Mesh type 100*120. The nominal mesh opening D = 4.2 in. (105 mm)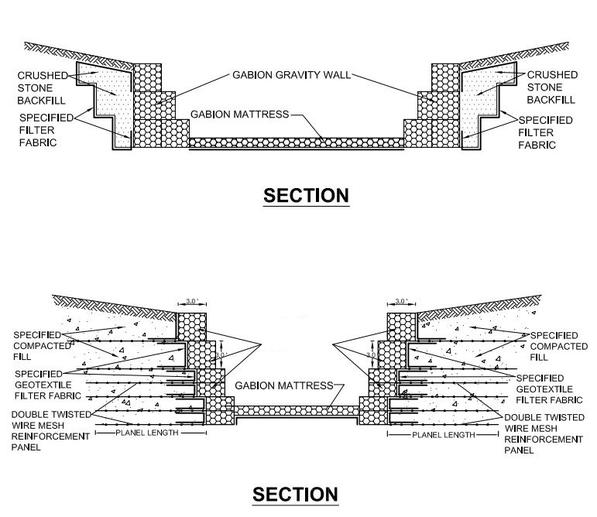 Gabion Box Applications
Control and guide of water or flood
Flood bank or guiding bank
Preventing rock falling
Bridge protection
Strengthening structure of soil
Protection of seaside area
Gabion Box Configuration Characteristic
1. Great Perviousness: keep the hillside and the seaside steady.
2. Great Pliability: No connection aperture and to be provided with tractility.
3. Great Anti-corrosion: The heavy galvanized surface and PVC/PE coated are able to against the corrosion strongly.
4. Resist the scour: to be suitable for seaside and slope defend the project.
5. Holistic capability: The cages are perfect for others, it doesn't leave the aperture when constructed in a huge quantity.
6. Easy to Construct: Don't need water, concrete with molding board, no need electric power also.
7. Application Better: easy to pack and load. It could be packed according to the design requests. Such as according to the shape of Hillside, Shore & bench, and Dike.
8. Economical: use local stone, not need any concrete.
9. Keep environment: the stone should be filled with soil finally (contrived or natural).