Reno Mattress are manufactured from 95% Zn and 5% Al coated double twist hexagonal wire mesh, and are normally supplied 6 x 2 m dimensions with a thickness less than 500mm. Mattress are filled with stones on site to create a flexible, permeable and monolithic structure for use in river and canal bank protection works as well as erosion control and scour protection of slopes.
The galfan coating provides improved corrosion resistance in comparison to a conventional galvanized coating, combining, in effect, the passive corrosion inhibition of aluminum oxidation with the active and passive effects of zinc. Galfan (95% zinc, 5% aluminium) has proven to be 2 to 3 times more corrosive resistant than the same thickness of hot dipped galvanized. Depending on the environment, it may take 50 years to 150 years for 5% rust to show on the surface of galfan when above ground.
Reno Mattress shall be manufactured with a 60 x 80 mesh type having a nominal mesh opening of 64 x 83 mm (2.5 by 3.25 in.). Tolerances on the mesh opening shall not exceed ± 10% on the nominal dimension D values.

Mesh Sizes(mm)
Reno Mattress dimensions and volumes
Wire diameter
L(M)
W(M)
D(M)
Capacity(m³)
Number of diaphragm
60*80 80*100
4
2
0.3
2.4
3
Mesh Wire: 2.0mm, 2.2mm2.0/3.0mm, 2.2/3.2mm.
selvedge wire: 2.7mm, 3.0mm, 2.7/3.7mm, 3.0/4.0mm.
lacing wire: 2.0mm, 2.2mm2.0/3.0mm, 2.2/3.2mm
6
2
0.3
3.6
5
4
2
0.23
1.84
3
6
2
0.23
2.76
5
2
1
0.5
1
1
3
1
0.5
1.5
2
4
1
0.5
2
3
Other specifications can also be customized processing.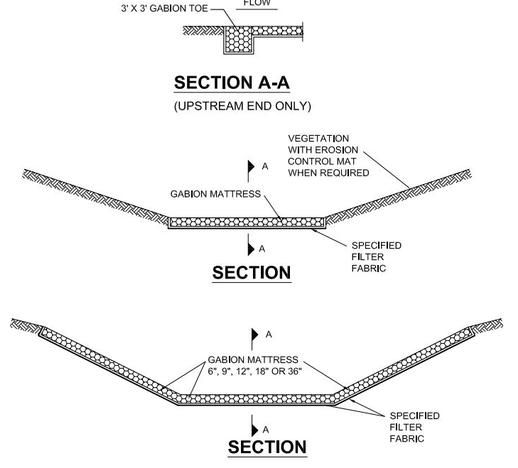 ZHUOMAO is the earliest and largest manufacturer of gabion structures in China.
Member of Chinese Hydraulic Engineering Society(CHES).
Member of China Institute of Water Resources.
Editor unit of China gabion engineering and technology standard.
The only one enterprise recommended by China Ministry of Water Resources in the field of gabion structures.
Strictly implement and meet international standard ASTM STANDARD or BS EN STANDARD and pass ISO & SGS quality certificate system, 3000hs Salt Spray Test.