Gabion walls are mainly used for soil stabilization behind the wall, but they can also be used as cover walls. The baskets are cage-shaped and closed on all sides. They are made of galvanized hexagonal mesh placed in the baskets and crushed stone. Retaining structures are formed by stacking gabion baskets in an appropriate schedule and provide an alternative solution to concrete structures in the field of soil stabilization.

Gabion walls are mainly used in road projects, such as the construction of roads, embankments, retaining walls, slopes, water retention, etc., and can have different functions.
- Create a barrier against coastal and embankment erosion
- Prevent sliding and scouring
- Reduce the velocity of water flow to prevent erosion in waterways
- Noise protection
- Aesthetic garden fence structure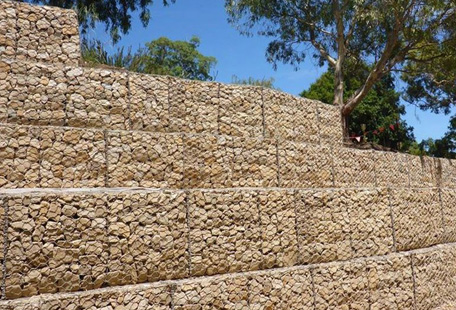 Gabion Wall
Benefits of gabion walls.
- Aesthetics - gabion walls look natural and by using natural materials suitable for the environment
- Compatibility with the environment - using materials made from excavated material, procurement, and transportation costs are significantly reduced
- Use as a cooling system in hot climates and provide passive cooling through airflow
- Water permeability - gabion walls are permeable and will not be damaged by running water
- The efficiency of gabion walls can be improved over time as vegetation fills the voids and strengthens the wall structure
-Soil movement does not negatively affect gabion walls, which is an advantage for stiffer structures (reinforced concrete walls)
-Longevity -Stone is a frequently used material because of their longevity, durability, and stability. Often stone is chosen because of aesthetic properties or the possibility of using the material resulting from excavation.
Common gabion baskets measure 2,0 x 1,0 x 1,0 m. The galvanized mesh is hexagonal in shape and the eyes measure X x Y = 8,0 x 10,0 cm.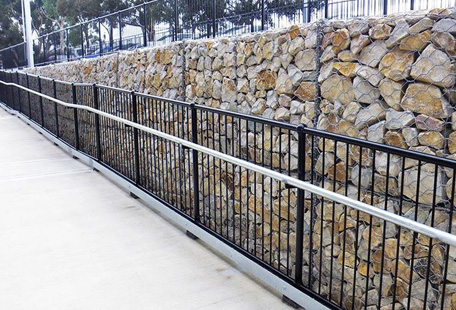 Gabion Basket
After the baskets are stacked, they are connected with galvanized wires to prevent deformation under the weight of the upper gabion rows.
The gravel used as filler must come from natural stone that can resist atmospheric influences. The stones are placed near the gabion baskets, either by machine or by hand. After filling, the baskets are closed and the connections on the grid are attached with galvanized steel rings.
The gabion baskets are folded up when delivered to the construction site to take up as little space as possible. After transport, the baskets are unfolded, attached, and prepared for positioning.
Gabion Wall Application
Retaining structures, including retaining walls, revetments, and bottom walls, for dams and sculptures.
They are used to protect seawalls, riverbanks, canal banks, dams, weirs, reservoirs, and lakes with anti-corrosion structures.
1) Cylindrical metal gabions are used to build foundations or dikes.
2) They are used to reduce noise.
3) As temporary flood walls, gabion walls are used.
4) They are also used to redirect floodwaters away from vulnerable structures.
5) Stepped gabions improve channel power consumption.
6) It is mainly used for aesthetic purposes.
7) It is used as part of a retaining wall at the base of steep slopes.
8) It is used to slow and prevent weathering and erosion.
For more information about the applications of Gabion walls and gabion wall advantages, welcome to contact us today or request a quote.