If you enjoy gardening or landscaping, chances are you've seen gabion walls and gabion baskets. Gabion walls have been with us for a long time and have been used since ancient times to build strong, sealed structures, most famously along the Nile River.
Or, you may have heard of them before when researching your options. But you may not be completely familiar with what they actually mean.
You can fill them with sand and soil, rock or concrete. They are easy to build and can be a great way to quickly build a wall or structure in a bad weather emergency.
However, if you want to purchase them, there are several different types of gabions that you can buy. Finding the perfect gabion for your needs is no easy task, but we have a buyer's guide that can help answer your frequently asked questions about gabions and how best to buy and use them.
Here, we'll look at exactly what they are and help you determine if they are the option you need for your garden.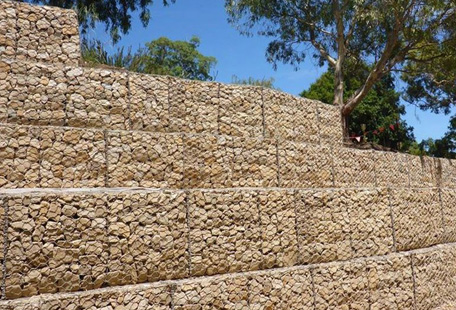 Gabion Wall
What is a gabion wall?
Essentially, they can be thought of as a combination of rock and metal wire. They are essentially simple, a wire cage that is erected and filled with rocks stacked on top of each other.
Sometimes the rocks can be replaced with different materials such as tiles, broken bricks, or even pine cones and pebbles. The materials you use may require different thicknesses of wire, as thinner nets may be needed to stop finer materials (such as pebbles) from spilling out.
In addition to having impressive integrity and the ability to withstand a lot of pressure, they have a rustic, natural look that makes them an attractive feature in many gardens and a practical choice.
If you want to know more about gabion wall options, feel free to explore our blog. You can also check "Things You Should Know About Gabion Walls".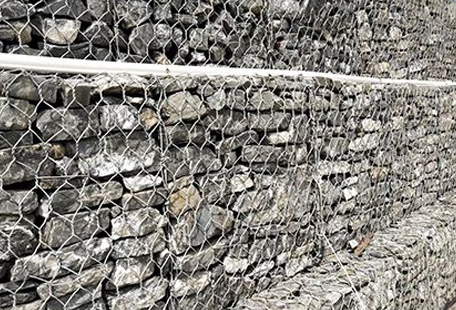 Gabion Wall
What is a gabion basket?
When looking at Gabion structures, you may come across a number of different terms that may seem difficult to distinguish at first. In addition to Gabion walls, you may also read or hear about Gabion baskets. Gabion baskets are simply wire mesh used to contain the materials that make up the wall. As mentioned earlier, care must be taken in selecting the right basket to fit the material of the wall.
In most cases, the wire is made of galvanized steel, but there are some other options here. For lighter materials, you can use light welded wire mesh with wide spacing.
However, when working with heavy materials or building retaining walls, you need steel mesh and larger wire diameters to ensure the structural integrity of the wall. They are often sold as flat-pack kits that you can then unroll and fill with the material of your choice.
Gabion baskets are easy to assemble and durable, coated with Galfan, so they can remain strong and secure for up to 50 years.
What's more, they're also a flexible tool that comes in many different shapes and sizes. In addition to a simple flat gabion wall, you can also choose a more rounded look for your garden using curved cages.
View more information about high-quality gabion baskets, click here.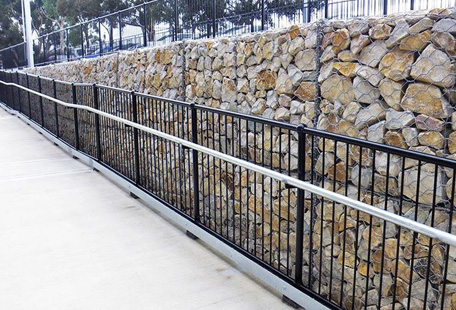 Gabion Basket
Efficient assembly and quality products
They can be purchased in cut panels, lengthy rolls, or sizeable baskets. The welded, treated wire mesh is available in a variety of cuts and is very quick to install. Whether you intend to build an aquatic arrangement, vertical accent wall, heavyweight boundary, or soundproof barrier, there is a particular gabion manufactured for high-performance in that arena.
Easy to install
The assembly process is as simple as getting inspired and completing the installation. There is no need to lay an initial foundation, as the contents are usually bulk items that create a natural base for themselves.
The gabion itself is only there to act as reinforcement and containment. It can be large, pre-measured baskets that you can fill, stack, or arrange. It can be a series of panels joined together to create baskets of your preferred size, or it can be a roll of mesh wire cut to an unsupplied length.
Gabions are shaped into basket form because they are smaller and easier to transport or move one by one, rather than a single large enclosure filled with material. If you are considering DIY gabions, remember that it is wiser to work in increments than to try to cover them completely at once.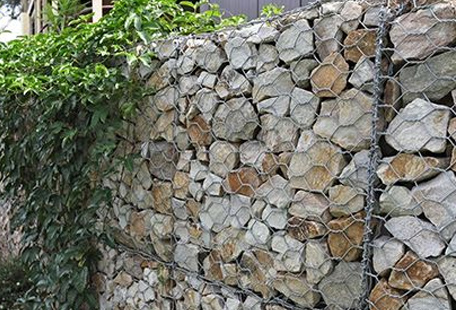 Gabion Basket
Customizable
It is somewhat customizable and can be a range of heights, opening the door to endless possibilities that will continue to exist when you choose what goes in your gabion.
Retaining walls require heavy objects to be pressed together and to hold their shape. They can't be something that bends or breaks easily under tremendous pressure. That's why stone or concrete is usually the preferred choice here.
Some homeowners choose to place crystals, glass, or other transparent substances inside the lower gabions and illuminate them with LED lights at the bottom or weave them through crags and crevices. The idea is not to support the walls but to create a unique setting for a fish pond or bar.

Perhaps you want a lounge area for outdoor dining. You can fill as many gabions of different heights as you like and top them with smooth wood to create seating and tables. They can be turned into benches, counters, bars, or any other flat furniture that also extends beyond the length of store-bought furniture. This is an ideal solution for people on a budget.
You can now use this technique to get the fire pits, waterfalls, raised planters, ponds, and sculptures you've been craving. Landscape architects are known for being creative with their projects, and gabions are no exception. Gabions are often used in civil engineering and have been seamlessly integrated into the commercial and residential sectors.
Buy the perfect gabion basket
Whether you want a beautiful gabion wall or a set of gabion baskets to decorate your backyard, these natural, inexpensive, and easy-to-see structures are sure to be the ones to have your back. They are customizable and fun to build.
If you're looking for the perfect gabion basket, make sure you know what you're thinking before you start shopping. Try to think about what you would fill it with, how tall it would be, and what you would do with it. Having all of this information will only make you more comfortable when you start looking. Still not quite sure if you want to buy gabions? Welcome to contact sales@zhuomaoyp.com.