A gabion is a welded wire cage or box filled with materials such as stone, concrete, sand or soil. A gabion is therefore a partially flexible block structure used for slope stability and erosion protection in construction. Various types of gabions are constructed and used in different engineering constructions. Sometimes live rooted branches can be placed between baskets filled with rocks to increase the durability and stability of the gabions.
What is gabion mesh?
Gabion fencing and gabion walls work in almost exactly the same way, only for different purposes.
In most cases, gabion walls are used as retaining walls. This means that if you have a garden or any landscape which is divided into different levels, a gabion wall will help to retain the soil or cobbles so that it does not spill over into the lower levels.
However, gabion fencing is not used to keep higher levels, but as a divider between one space and another.
Gabion fences are more difficult to build than walls. The weight of the material alone can make it dangerous and easy to topple over. For this reason, make sure you are consulting a professional builder or structural engineer with experience in working with this particular material.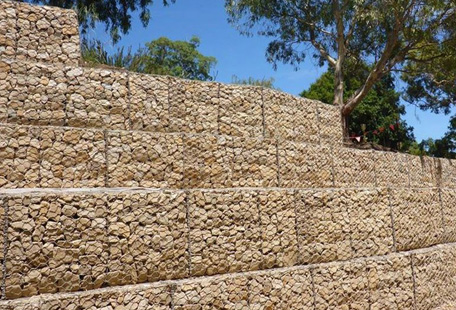 Gabion Wall
Do I need a foundation for a gabion wall?
Gabion structures, whether walls or fences, do not require a concrete foundation. They do, however, need some work under the surface. Otherwise, they are heavy and can easily topple over.
How the foundation is laid depends on many factors, such as the material used for the wall, whether it is for a retaining wall or a fence, the condition of the subsoil on the site, etc. If there is any and some subsoil, you will have to remove the soft peat topsoil and then replace it with a harder foundation course.
If you are building a wall on bedrock then you will only need about 25mm of subgrade. Unlike many other walls, gabions do not require a concrete base. For heavier materials, a double width bottom gabion can be used under the main structure to improve the stability of the wall.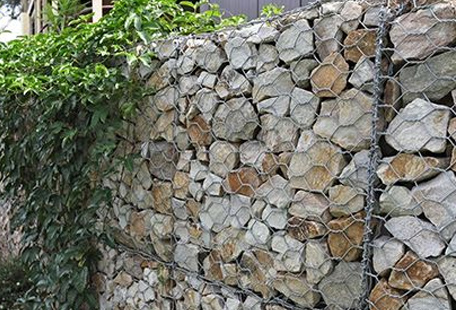 Gabion Basket
In some cases this is used where the subsoil is soft so that the weight of the wall can be distributed more evenly over it.
Smaller, lighter gabion walls do not require thorough soil testing, but if you are building a larger, heavier wall or fence, you should ensure that you have an expert check the foundation tests to find out the subsoil bearing strength.
Cost per metre of gabion wall
The cost of installing a gabion wall varies greatly. Much will depend on the materials you use to build it. Even without considering stone fill, you can see that the price per metre of gabion basket varies between £15 and £125.
The reason for this wide variation is the wide variety of baskets available. Wire gauge, weight and material all affect the overall pricing. 50 mm thick standard galvanised steel mesh costs around £30 - £35 per metre.
You then have to consider the cost of stones, bricks, cobbles or whatever you want to add. Gabion structures can be relatively expensive compared to other retaining wall options, but their unique appearance and relative ease of use make them a popular choice for gardeners and landscapers.