Commonly used in industrial and commercial settings, perforated metal is now making its way into residential design. Its properties make it ideal for structural and decorative applications, as it can shield and enclose spaces while allowing light, ventilation, and visual openness.
Perforated metal is a sheet of metal with holes of a specific shape and size that has a mesh-like appearance when viewed from a distance. The shape, size, and pattern of the holes can be standardized or customized. Standard perforations are usually round and range in size from 1 mm upwards. However, the larger the hole, the thicker the sheet metal needs to be.
Custom perforated sheets are also available with holes of various shapes and sizes, including the square, rectangular, diamond, cross, etc. Custom artwork can even be created by changing the size, pattern, and layout of the perforations.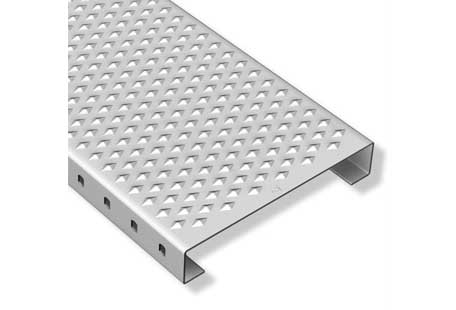 Perforated Sheet
What are the benefits of perforated metal?
Perforated metal can be used for structural and decorative applications in architecture and design, including railings, facades, stairs, and screens, and its properties allow for creativity in terms of light, sound and visual depth.

Perforated metal can be used to regulate light and ventilation within a space. It can block or limit direct light, while still allowing airflow. This helps reduce energy consumption.

It can enhance privacy and create a sense of enclosure without completely enclosing the space, as it has a somewhat transparent effect when viewed from a distance.

Perforated metal can diffuse sound. For example, panels installed along the ceiling can be used to prevent echoes.

It is a non-slip and easy-to-clean choice for walkways and stair treads. It is also durable and has a high load-bearing capacity.

Outdoors, perforated metal on stairs, walkways, and benches is ideal where drainage is needed because water can slide right through the holes.
Perforated sheet metal is a versatile product that can be used for both structural and design purposes. Perforated patterns come in a variety of styles, and these panels allow light, water and air to pass through while also enclosing spaces, providing structural support, or simply adding aesthetic value to a space.
These panels can be composed of a variety of metals, such as stainless steel, aluminum, and copper, and they can be customized to create unique designs that make facades, infill panels and other building components stand out. With such possibilities, there are many architectural applications for perforated metal and the advantages of using this material in your designs!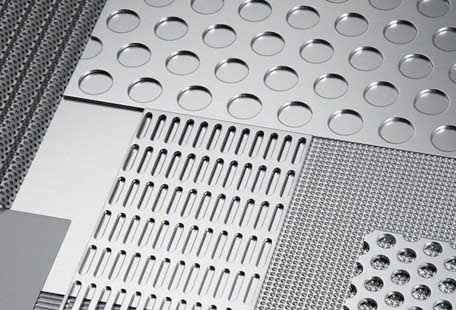 Perforated Sheet
How perforated metal can be used in architectural design?
Perforated metal applications are becoming increasingly popular. As the material is no longer limited to industrial or commercial buildings, architects, builders, and interior decorators are exploring the possibility of using decorative perforated metal in residential architecture. As the industrial style gains momentum in residential design spaces, designers are incorporating metal in new and exciting ways. Consider the following architectural possibilities for incorporating perforated metal in your next project.
Facades
The use of perforated metal on facades is a popular application. With a variety of design possibilities, facades can become beautiful walls of character and enhance visual interest. Custom features allow architects to incorporate signature touches that are unique to the project.
The metal facade also has great functional value. The holes in the metal panels allow light and air to pass through, while also blocking harmful UV rays. When the panels are placed in front of a window or opening, those decorating the opposite side of the metal will continue to benefit from natural light without the damaging effects of direct sunlight.
For outdoor applications, these panels can also stop the worst of the harsh weather from flowing into the opening. Best of all, depending on the metal you choose, they require minimal maintenance.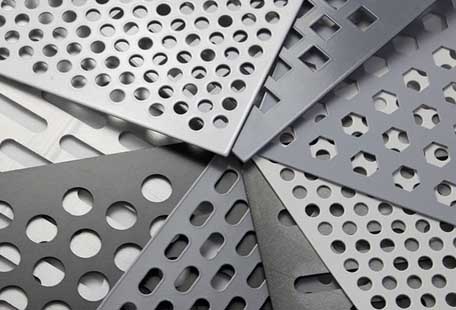 Perforated Sheet
Outdoor Awnings
Similar to facades, the use of perforated metal on outdoor awnings adds visual interest and provides protection from the elements. The use of custom, eye-catching patterns adds aesthetic appeal to outdoor spaces while also filtering light, providing protection from the sun and adequate ventilation. These metal panels can be used for walkways, entrances, decks, and outdoor dining areas. They also enhance the décor around the building.
Perforated panels give the impression of being outdoors without being exposed. Reducing the effects of UV rays and inclement weather also extends the life of structural elements or trim that might normally be subjected to harsh treatment.
The smaller and more perforated the perforations, the richer the shade and protection. While perforations will not block all moisture, they can provide enough sunlight and air to help prevent moisture buildup after rain or snow. In addition, the style and pattern you use can easily be matched with other decor and create interesting shade patterns on floors and walls.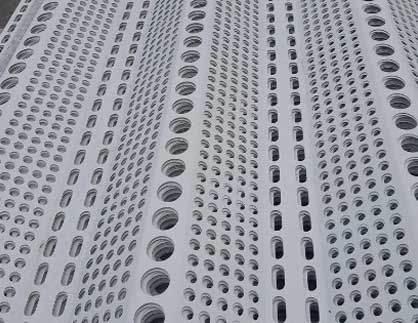 Perforated Sheet
Suspended Ceilings
There are many benefits to using perforated panels instead of ceiling tiles. Design variables such as color, pattern, and perforation diameter can produce visually appealing spaces, and panels add to the beauty of offices, conference rooms, and even finished basements. They are easy to install, provide sound insulation and cover any necessary but visually unattractive overhead components such as wiring and AC units.
Because they are easy to remove, maintenance personnel can easily access HVAC units, ducts, or wiring. Perforations also allow air to circulate naturally from the central air system without the need for additional vents or exposed ductwork. Whether you're outfitting an assembly plant with statement pieces or providing acoustic panels for someone's basement, perforated metal may be the right choice for your next project.
Exterior Screens
Exterior screens provide privacy and cover for buildings and outdoor environments, and perforated metal is a great material to achieve them. Although perforations may seem contrary to privacy, the density and diameter of these holes create a mesh-like appearance that protects whatever is behind them, especially at a distance. Perforations provide both airflow and light filtration - something that other materials cannot necessarily do.
Perforated panels can be used throughout office buildings, parking lots, or even as privacy screens on backyard patios or apartment balconies. Opportunities abound!
The density and diameter of the mesh can also hide structures or fixtures that don't fit your desired aesthetic. Whether you want to make a parking lot next to a hospital visually interesting or hide an outdoor HVAC unit or pool system in someone's backyard, decorative perforated metal panels can be used as great exterior screens.
For more information and consultation, contact us here!