A gabion basket is one of the simplest things one can make for their garden. It is simply a large mesh cage filled with soil. You can fill them with sand and soil, rock or concrete. They are easy to build and are a great way to quickly build a wall or structure in a bad weather emergency.
However, if you want to buy them, there are several different types of gabions available. Finding the perfect gabion for your needs is no easy task, but we have a buyer's guide to help answer all your questions about gabions and how best to buy and use them.
What is gabion mesh?
If you still can't consider using a gabion, consider mesh wire or netting. It is filled with small holes that almost look like a cage. The mesh is then made into blocks or cylinders and filled with stones or filled with clay. That's a gabion mesh and they have been part of the works since the 14th century.
Other structures you can make using gabions include columns, bridges, and walls. Although gabions may look simple, they are anything but. In addition, you can use them for many different applications.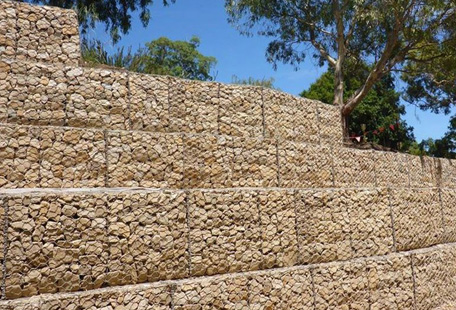 Gabion Wall
The history of gabions
The earliest known gabions are ancient gabions built by the Egyptians some 7,000 years ago on the Nile to protect the river banks; since then they have been refined and have become one of the most common engineering tools. Most gabions remain around rivers and seas, acting as walls, dams and protection against erosion.
They were also used in buildings, such as in California's Napa Valley, where the Dominus Winery estate used several gabions connected by wire mesh to allow more efficient and natural airflow into the building.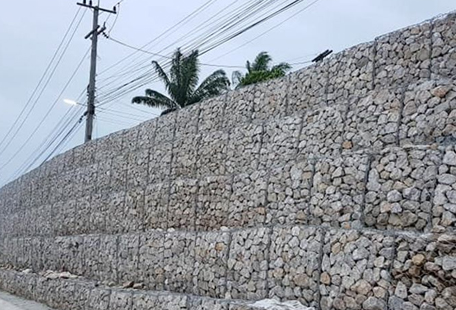 Gabion Retaining Wall
What are gabions used for?
People use gabions to build, decorate and support natural landscapes. Gabions are mainly used to protect river edges from erosion. As the water continues to wash over the slopes of the river, these slopes slowly become weaker and weaker until they are unable to hold the river back.
The water can then change course and possibly interact with the sewers and other areas used by people. This can cause problems as erosion can get out of hand and people use gabions to keep the river in one place.
Gabions also help to stop flooding in an emergency. They can help provide structural support when placed along the river bank. Also, because gabions are made of clay and rock, most builders can cover them with moss or other vegetation to hide them.
Example uses of gabion baskets
While some of the most common uses for gabion baskets are around rivers and slopes where people need stability, this is far from the most common use.
Many people are turning to gabions to make beautiful walls for gardens or ponds. Shorter gabion walls can have wooden slats placed on them to make natural benches, or they can be used to make stone plant stands. Gabions are covered with several layers of topsoil and can be used to grow plants. Whatever you use them for, gabions are certainly an inexpensive way to bring a little natural beauty to your backyard or garden.
In addition, gabions are often used along the US coastline to absorb waves and prevent severe erosion. They are often the first line of defence if the coast is hit by a hurricane, and they do their job well even in calm weather.